Researches on the Nepalese mycoflora - 2
Name of the book– Researches on the Nepalese mycoflora-2 : checklist of macrofungi (mushrooms)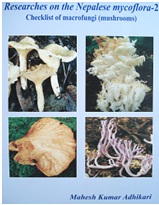 | | | |
| --- | --- | --- |
| Author | - | Mahesh Kumar Adhikari |
| Size of the book | - | 6.7 X 9.6 inches |
| | | |
| Total Pages | - | 90 |
| | | |
| Printed in Nepal by | - | Siddhartha Printing Press, Kanibahal, Lalitpur |
| | - | |
| Date of Publication | - | January, 2012 |
| | - | |
| Cover | - | Laminated with 4 colored mushroom photographs |
| | - | |
| Publication year | - | October. 2009 A. D. (2066.6. BS Nepali calendar) |
| | - | |
| Publisher | - | Mrs. Kamala Sharma Adhikari |
| | - | |
| Price | - | 500/-NR, 16/-USD |
| | - | |
| ISBN no. | - | 978 – 978 – 9937 – 2 – 1736 – 1 Kathmandu, Nepal |
| | - | |
| All Rights Reserved to | | Mr. Girish Adhikari |
Brief introduction about the book
The investigation and study on the mycodiversity of Nepalese Himalayan belt is the most neglected field. The gathering and study of fungi is an expensive, difficult and tedious job in accessing the areas of explorations. Many taxa have remained unexplored and many new species are yet to be discovered. This book is the compilation of the result of investigations done on Nepalese alpine to tropical mycoflora. It is a new field in Nepalese Botany.
This book is an effort to throw light on the higher or larger or macrofungi, whose fruiting bodies are seen by naked eyes during study and investigation. The chapters throw light on the list embracing the macrofungi (mushrooms), which fall in the group Ascomycotina and Basidiomycotina.
The book is divided into five chapters embracing:
Introduction - chapter 1
List of Fungi – chapter 2
Ascomycota, Basidiomycota - chapter 3
Selected references - chapter 4
Index, annex and photographs – chapter 5
Somewhere a comparative note for the field identification of the species concern has been provided to recognize the species in the field. The common names (oriental and western) of the species concern are also provided. The groupings and sub-groupings of the taxa are adopted after 'Dictionary of Fungi' (2001) and the subject matters are so organized that anyone can easily find out the required information without going through the whole book. Moreover the book is presented in an easy-to-read style. The book incorporates 65 colored photographs and 35 BW photographs. The total species included in this is as follows :
Group
Order
Family
Genera
Species
Ascomycota
5
23
61
147
Basidiomycota
12
74
447
874
The aim of the book is to provide prompt findings of the published or unpublished species in the field, try to recognize the species in the field. (d) while reporting one must know about fungi reported yet (e) avoid duplication of publication of the taxa concerned and the result of investigation.
The book is hoped to benefit the scientists, researchers, planners, students, amateurs, the mycophagus society and its related people.